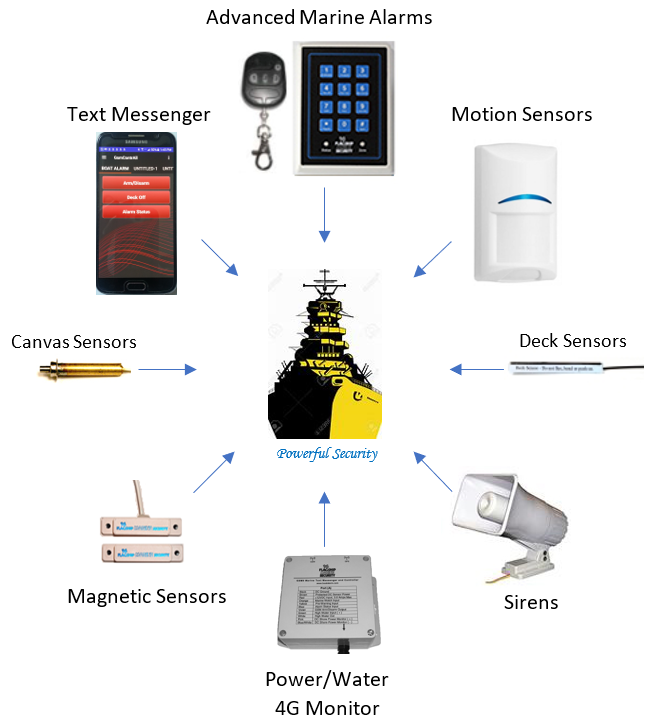 Welcome to boatalarm.com, home of Flagship Marine Security. For almost three decades, Flagship Marine Security has taken pride in providing the best marine security systems worldwide. Our vision is to use our proprietary technology to go beyond GPS and cameras, our mission is to protect the boatowner, their families and boat by stopping the intrusion before it starts.
Since 1983, Flagship Marine Security has manufactured the broadest selection of marine alarms and accessories that detect intruders before your valuable boat can be damaged. Our alarms are currently used aboard thousands of boats such as the world's largest private yacht, historical boats, catamarans, cruisers, trawlers, sailboats, center consoles, workboats, dive boats, pro-skiboats, bass boats and many others.
Proven products such as our advanced remote/keypad marine alarms, intelligent deck sensor processor, ultra-slim plug and play deck sensor, canvas sensor, active dock disconnect, custom magnetic switches, outboard sensors, wireless sensor link and marine friendly operation allows any boat owner or manufacturer to design a security system for any length or style boat. Our newest series of advanced alarms increase the number of hardwired zones, monitor up to eight deck sensors, manage outside motion detectors for maximum detection notification, and generates discrete voice alarms for pre-warning or enhanced siren response.
Systems can be customized to broadcast text message alerts directly to a cell phone and multiple visual signals for emergencies such as high water.
We work with each customer closely to ensure their security needs are met in a simple cost effective solution. For unparalleled customer commitment each Flagship Marine Security system includes our gold support plan which provides a custom wiring schematic for stress free installations and a 24/7 hotline for after-hour and weekend technical support.
So, if you are looking for a world class marine security system, look no further than Flagship Marine Security.