FS701KDSP-2Z Advanced Remote Boat Alarm System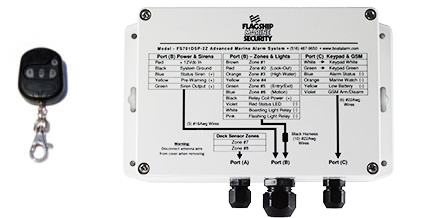 FS701DSP-2Z System overview with sample siren/sensor options
Pictures of FS701KDSP-2Z alarm installation aboard a 44' Antares Catamaran
Pictures of FS701KDSP-2Z alarm installation aboard a Sea Ray Sundancer 500
The FS701DSP-2Z is the ultimate in marine security perimeter detection alarm systems. The FS701DSP-2Z combines various layers of pre-warning deck sensor zones, onboard outside motion detectors along with standard perimeter sensors to protect your valuable boat and warn your family of potential intruders.
The FS701DSP-2Z incorporates a standard two zone deck sensor processor with internal power relays that allow for easy selection of voice drivers, low volume arm/disarm notifications, pre-warning sirens and main response sirens. The FS701DSP-2Z's sealed color coded wiring harness eliminates messy electrical connectors and greatly reduces installation time. Add a GSM communicator and the alarm will send text messages such as intrusion, alarm status, boat's battery condition, high water and remote arm/disarm. This is the reason Flagship Marine Security has the most trusted reputation in marine security.
The revolutionary design and small footprint of the FS701DSP-2Z enables it to secure any size boat, especially larger boats with limited battery capacity or high profile security requirements. The FS701DSP-2Z wireless receiver links additional boats or dock/tender disconnects to maximize functionality while maintaining our commitment to simplicity and zero false alarms. No other boat alarm on the market incorporates various stages of pre-warning notifications of on-board activity to protect your boat from boarding and the initial damage caused by vandals. What else would you expect from a company that has been securing all types of boats for twenty-seven years, such as the world's largest private yacht, historical boats, catamarans, speedboats, cruisers, trawlers, ski boats, sailboats, bass boats, mega-yachts and many more?
Two Zone Internal Deck Sensor Processor
The FS701DSP-2Z incorporates a two zone deck sensor processors that monitors up to four deck sensors per zone. The multiple zones allow for greater deck sensor control and if the alarm is armed in the pre-warning mode, various sirens and lights warn intruders they have been detected. If a voice driver is utilized, the system informs the intruder that the "Authorities have been called" or simulates a barking dog. If the intruder does not heed the warning and violates another zone of deck sensors, lights flash and all siren outputs activate.
The two zone internal digital deck sensor processor filters out deck movement caused by deck heating, boat movement, ceiling compressors, pumps, sudden equipment movement, RF noise, A/C power wiring and electrical storms. The internal deck sensor processor stores and develops a deck movement signature from information sent by the FA1 deck sensors. When an intruder steps on the boat's deck causing the deck movement signature to change the alarm activates before any damage can occur. The FS701DSP series employs FA1 deck sensor proprietary plug and play wiring for easy installation and utilizes audible FA1 deck sensor calibration for simple one person testing.
Ten Function Remote Control
The FS701DSP's powerful watertight remote control key-chain arms and disarms the alarm system from dockside and incorporates an arsenal of easy to use command functions such as:
Twenty four hour panic.
On-Board-Arming - disables cabin motion detectors for overnight stays and eliminates entry/exit delays.
Pre-warning - enables one layer of deck sensors to be used as a pre-warning zone.
Deck Sentry Mode - notifies boat-owners of on-deck activity or boarding.
Enables audible deck sensor sensitivity mode.
Allows easy programming of up to sixteen additional remote controls and Marine Link wireless processors.
Disables deck sensors for cleaners and service personnel.
Recalls last alarm memory.
Engages Look-Out Mode for boats using outside motion detectors for maximum perimeter surveillance.
Activates boarding lights.
Marine Link Wireless Processor
Marine Link is a wireless transmitter specifically designed to work with dock disconnect sensors and other remote sensors up to one hundred feet from the main control box. Marine Link utilizes pulse technology to detect dock disconnect cable tampering which eliminates the need for armored cables. All FS701DSP series have internal receivers that can be programmed to a Marine Link processor.
Look-Out Motion Detectors
The FS701DSP-2Z provides a special input for outside adaptive quad motion detectors called Look-Out sensors. Look-Out sensors incorporate four sensors (two microwave & two PIRs) along with specialized software to filter out false alarms. Look-Out sensors activate the boat's onboard lights and small notification sirens alert the boat owner of a possible intrusion or boarding. Look-Out sensors are only activated via the remote or keypad when the boat owner feels the boat is moored in an environment that requires a higher level of security. Over the years, Flagship Marine Security has worked with many boat owners who desire to maximize their security without the nuisance of loud sirens activating only to find out it is a false alarm.
Technical Specifications
Program up to sixteen code hopping transmitters.
Six auto-shunting hardwired zones.
Standard two zone internal deck sensor processor that monitors up to four deck sensors per zone. Option (1Z) incorporates a single deck sensor processor.
Marine Link wireless zone for tenders, dock disconnects and other remote sensors.
Pre-warning mode - activates warning systems such as voice alarms, sirens and on-board warning lights. Main sirens are activated when another layer of deck sensors are triggered.
Internal relay outputs for main siren, pre-warning and notification sirens for easy installation.
Sealed NEMA control box. Dimensions - 7" X 4.5" X 2.25".
Easy to wire sealed color coded wiring harnesses.
GSM interface cable for text messaging and remote arm/disarm - Add option (G) to P/N. Option (G) is standard on the FS701KDSP-2Z.
Monitors boat's battery connected to the alarm - Add option (B) to P/N.
Internal remote antennae.
Intelligent siren reset - automatically adjusts siren run time due to faulty motion and pre-intrusion sensors.
Flashes navigational, floods or spreader lights during alarm.
Activates vessel's lights for easy boarding.
Protected 12Vdc output for FS401 high power relay coils - (maximum of two).
Recallable last alarm memory.
Quiet-Arm - uses optional ES1 mini-siren to eliminate loud audible siren status chirps.
Twenty-four hour remote/keypad panic mode.
Delayed 24 hour zone for emergency sensors such as high water switches.
Specialized interior cabin motion detector zone varies siren response time.
Four programmable twenty second delay zones.
Look-Out mode activates notification sirens and lights for five seconds if outside perimeter motion detectors activate. Does not activate pre-warning or main sirens in case of false trips.
Nine function status red LED output.
Auto power conserve mode for boats without dockside power.
Ultra-low power consumption (9.0 milli-amps).
On-Board-Arming disables cabin motion sensors and eliminates entry delays for overnight stays.
Accepts up to two command membrane keypads.
Activates dialers, GSM text messages and communicators such as Spot Hug GPS trackers.
Arm/Disarm status, intrusion, remote disarm output for GSM text message notification or activating external accessories.
Field upgradeable controller for custom applications.
All components are shock mounted.
Part # FS701DSP-2Z kit Contents
One four button, ten channel RF remote control.
Miniature sealed NEMA control module. Dimensions - 7" X 4.5" X 2.25".
Five amp fuse and water resistant fuse holder.
Stainless steel mounting hardware for control box.
Warning decal.
Easy to follow instructions.
FS701KDSP-2Z Combination Keypad and Remote Alarm
For boats requiring both remote and keypad operation, the FS701KDSP-2Z comes with one low power surface mount membrane keypad and all of the features of the advanced remote FS701DSP-2Z series. Up to two PK1 keypads can be added to any FS701 alarm system.
| | | |
| --- | --- | --- |
| | Why choose when you can have both? | |
Part # FS701KDSP-2Z kit Contents
One four button, ten channel RF remote control.
One surface mount PK1 membrane keypad with six feet of cable.
Miniature control module. Dimensions - 7" X 4.5" X 2.25".
Five amp fuse and water resistant fuse holder.
Stainless steel mounting hardware for control box and keypad.
Warning decal.
GSM/Keypad interface cable.
Easy to follow instructions.