SB-DSP Professional Ski Boat Alarm Kit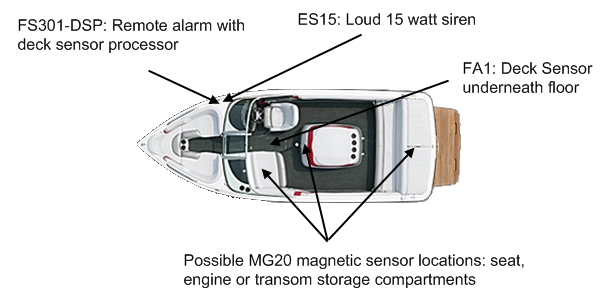 The SB-DSP is designed to secure professional ski and similar type boats. The SB-DSP detects intrusion and sounds the siren before valuable items such as stereo systems, tower speakers or ski equipment can be vandalized.
The SB-DSP is based on our proven FS301-DSP-Z system that monitors a miniature deck sensor mounted under the boat's deck. When an intruder steps on the protected deck area or opens a secured hatch the loud ES15 siren sounds. The FA1 deck sensor is the only active motion sensor in the world that can be used aboard trailer or moored boats without false alarms or discharging the boat's battery. Since the deck sensor is sealed under the deck it is protected from water and busy ski-boat environments. The SB-DSP has secured almost every brand of professional ski-boat since 1999 and to date we do not know of a system failure. The weekly power consumption of the SB-DSP is less then 1.60 amps per week at 12Vdc.
The SB-DSP kit includes the standard FS301-DSP-Z marine alarm kit and the following accessories:

One extra RC4 remote control for a total of two.
One FA1 deck sensor with epoxy and twenty feet of shielded wire.
One MG20 magnetic for large storage or engine compartment.
One ES15 15 watt five inch diameter siren.
One Quick-Wire custom wiring diagram.
24 x 7 technical support.
Additional sensors and accessories can be added to the SB-DSP to meet any type of marine security configuration such as concealed transom compartment sensors. The following is a list of some possible SB-DSP options:

Additional MG20 magnetic sensors.
MG10 or MG5 magnetic sensor for small stereo compartments or mooring covers.
ES7 - Miniature super loud piezo siren to compliment the ES15 and maximize noise.
ES1 - Quiet arm/disarm piezo.
FS401 - Driver relay to activate or flash interior or tower lights.
WP14 - Power wire to connect control box to the boat's battery.
WP18 - Power wire to connect siren to control box.
W22 - Wire to lengthen magnetic sensors or use as closed trigger wire loops through speaker frames and stereo equipment.
TS1 - Trailer vibration sensor.
SL12-HR - LED strobe light.
LED1S - Warning and diagnostic LED. Note: LED warning indicators increase weekly alarm system power consumption to approximately 2.69 amps at 12Vdc.
CS1 - The CS1 canvas sensor detects the removal of mooring covers if the boat uses standard canvas snaps.
Pictures of a pro-skiboat installation
MasterCraft pictures courtesy of John Commandeur of the Netherlands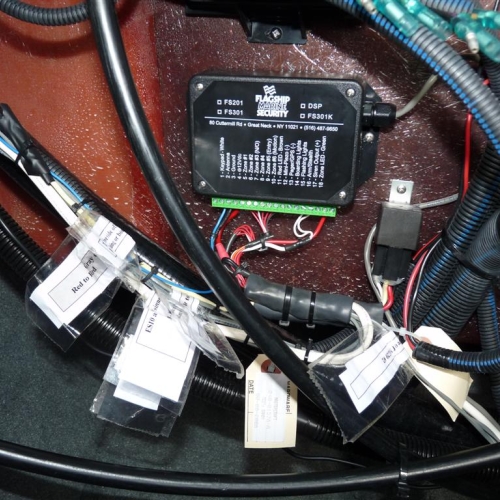 Control Box Closeup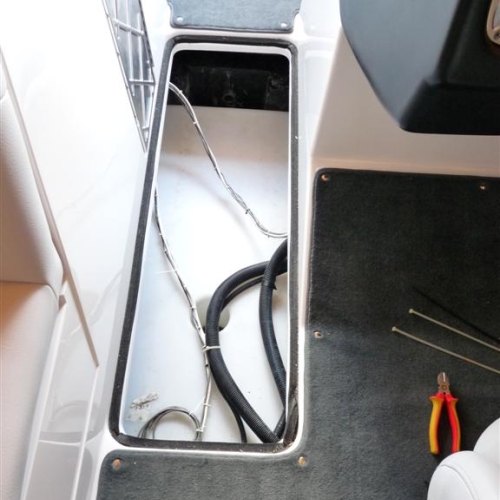 Deck Sensor Location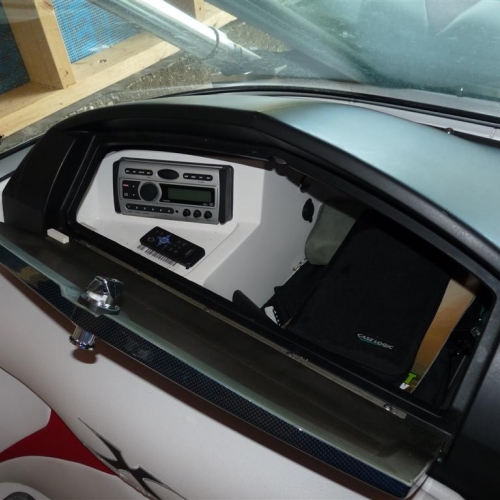 Glove Compartment Sensor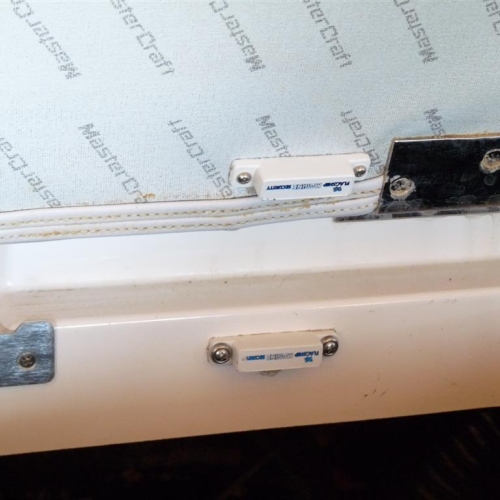 MG20 Close View
MG20 on Battery Compartment
MG20 on Observer Seat Compartment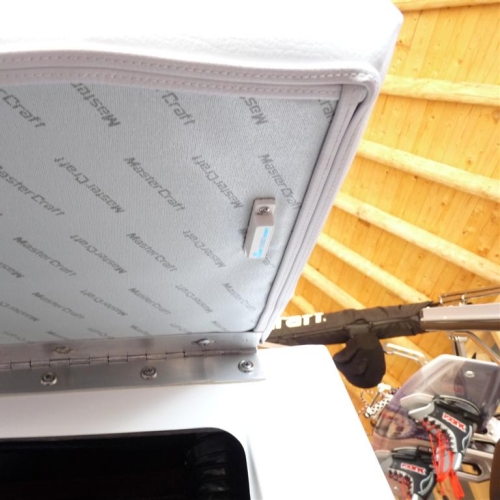 MG20 on Storage Compartment
Pictures by Shaun Plotkin of Canada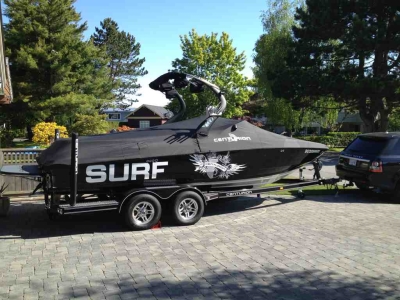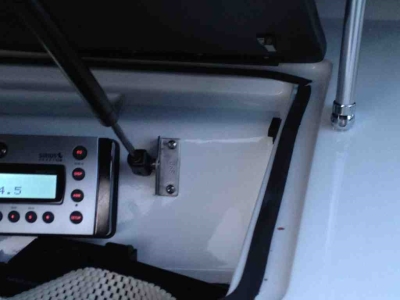 MG5 on a stereo compartment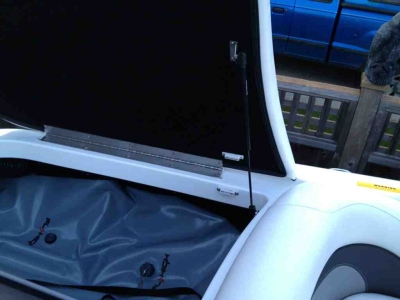 MG20 on a storage compartment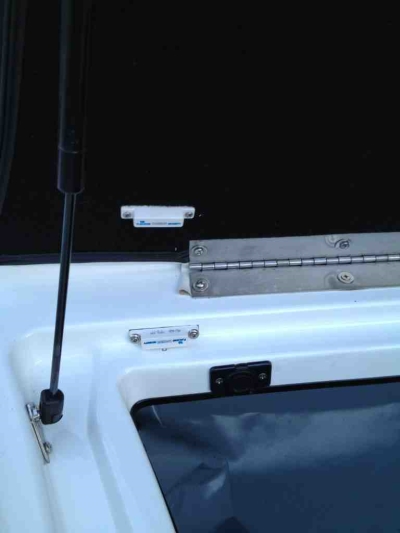 MG20 on a storage compartment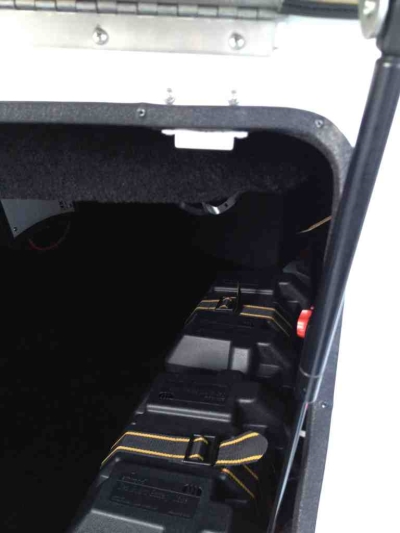 MG20 on a battery compartment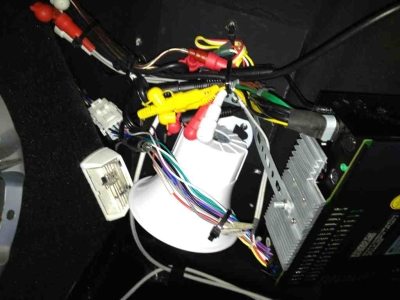 ES15 siren
ES7 mini-siren for arming and disarming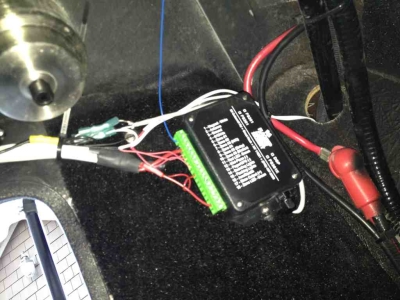 Main control module